SAP Augmented Corporate Reality Proof of Concept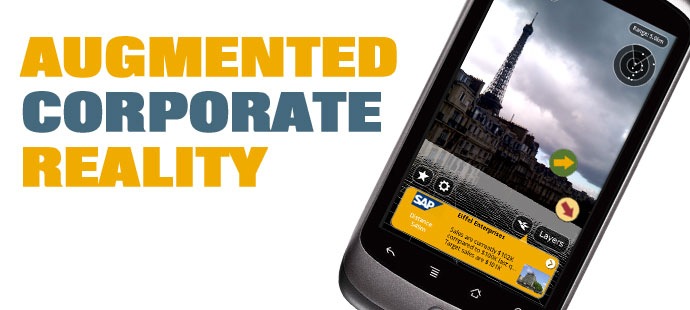 [UPDATE: See this post for the soon-to-be released prototype from the SAP BusinessObjects Innovation Center]
Here's an example of "augmented corporate reality" based on the Layar platform and the SAP BusinessObjects ondemand.com platform, running on a Google Nexus One Android phone.
These are all screenshots taken from a working proof of concept, shown as an example of the type of functionality business users might have access to in the future — not with any promise of such a product in the future.
Open the Layar application, look at the list of available "layers", and choose the SAP Web 2.0 Augmented Corporate Reality Example
The application opens the camera's phone, and connects to a business intelligence server to get information about the customer businesses closest to the current location.

This information is shown in the small radar screen in the top right, and an icon for each customer is shown on the screen. As the phone moves, the icons appear to stay in one place, hovering over the physical location of that customer's building.

Each icon indicates the customer's sales performance (the arrow direction shows the trend, the color indicates whether or not sales have reached my target or not). The size of the icon indicates roughly how near or far the office is.

The application automatically highlights the location closest to the center of the display, and shows more information about that business (name, distance, photo, current and previous sales, and sales target)

Users can click on the selector in the top left to see the customers as a list, ordered by distance from the current location (realistically, this is likely to be the easiest, most popular location-aware information use)
Alternatively, we can see the customers, and their performance icons, shown overlaid on a map.
When the user clicks on one of the icons, they see more data about that business, and can click on the "Get Data" button to drill in for more information.
This takes them to a live report hosted on the SAP BusinessObjects on-demand business intelligence environment…
…where they can drill into the numbers, open other reports and charts, etc.
We hope to open up the prototype for use by others, with the ability to add other example locations, etc.
What could businesses really do with this? Well, maybe you're a branch manager, and you want to get the latest sales figures as you visit the branch: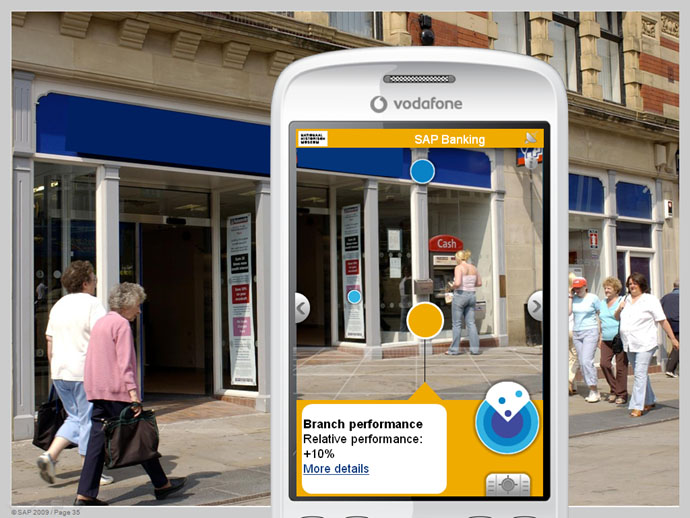 Or a factory manager who wants to see the maintenance records for a particular machine: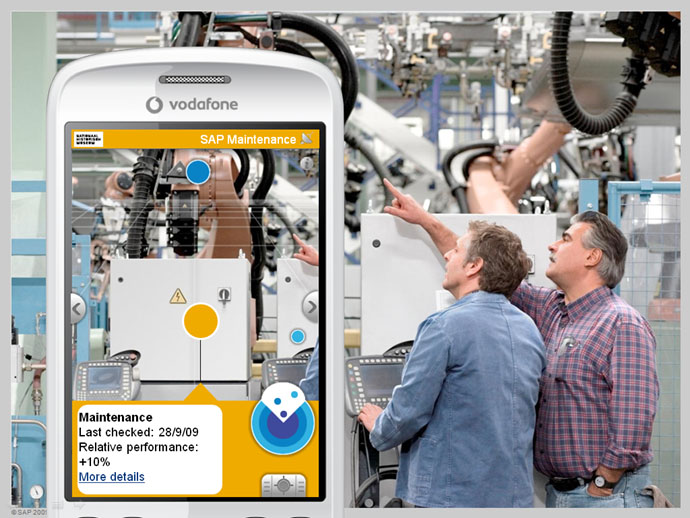 Or you'd like to compare performance of goods displayed inside the store with the goods stored in the shop window:
What you can do with this technology is currently restricted by the location services: realistically, it works well for identifying building locations outdoors using GPS, but is not yet precise enough for most indoor use. However, this is changing fast as vendors offer new location services, based on cell-phone, wifi, and other forms of signal triangulation.
How far could this go? Well… take a look at this video:
Related posts: