Troubleshooting
I can't move to the next slide – what's wrong?
You have to click outside the tool in order to give mouse control back to PowerPoint – e.g. click on the header once before moving on.
"Some controls on this presentation can't be activated. They might not be registered on this computer'
This is an error to do with Adobe Flash. If you reinstall the latest version of the Adobe Flash Reader, it should go away (and it may be browser dependant – try reinstalling using Internet Explorer if Chrome didn't work, etc.)
The Tool Does Not Appear
You may have to enable Active X Macros. Instructions for Office 2007: If the bar below appears on the left, below the menu, click on Options and choose "enable this content". You will have to do this each time you open the presentation.

If neither the PowerPoint ticker tool nor the bar above appear, go to the "office" button (the circle in the top left, with the office logo), and choose "PowerPoint Options" at the bottom of the menu box.

Then choose Macro Settings, "Disable macros with notification" and follow the previous steps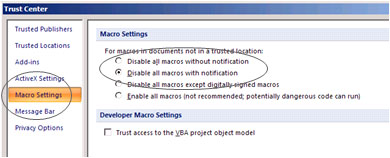 Finally, if it still doesn't work, it may be that the http://timoelliott.com is down or running slowly – apologies! Tell me if this happens, so I can complain to my provider…
You Get a Box Saying "#2032 Error"
This means that there is some problem with the XML that is being returned from Twitter. Either there are some strange characters in the search string, or you have hit the activity limits for your IP address. It may just be that Twitter Search is down – check at http://search.twitter.com.
Or, try copying this link into a browser, using your search term:
http://search.twitter.com/search.atom?q=yoursearchstring
If the result looks like this, there have been too many recent calls to the Search API from your IP address, and you have to wait for a while.
<?xml version="1.0″ encoding="UTF-8″ ?>

<hash>

<error>You have been rate limited. Enhance your calm.</error>

</hash>
This situation shouldn't occur with a single presenter, but may happen if several people are all using the tool from a single office that has a single IP address, for example (e.g. SAP offices)
I keep getting #2048 errors
This is a flash security error, saying that you're not authorized to do whatever you're trying to do. You'll typically see it when you try to use the update bar (which must be installed locally on your computer to have a chance of working). I'm not yet sure what causes this — works on my PC — maybe the security settings of PowerPoint?
If you see it for the other tool sets, it may be that Twitter has had a problem with Flash security settings. It's probably temporary, but in the meantime, you might have more luck with the local version of the PowerPoint presentation – unzip the attachment to a directory. If you cut and paste slides into your own deck, you'll also have to move the appropriate .swf files to the same directory as your PowerPoint presentation.
Autotweet used to work, but now doesn't
You may be using the old add-in (if it doesn't say "supertweet" on it, it's the old one) — remove it, download the latest version, and reinstall.