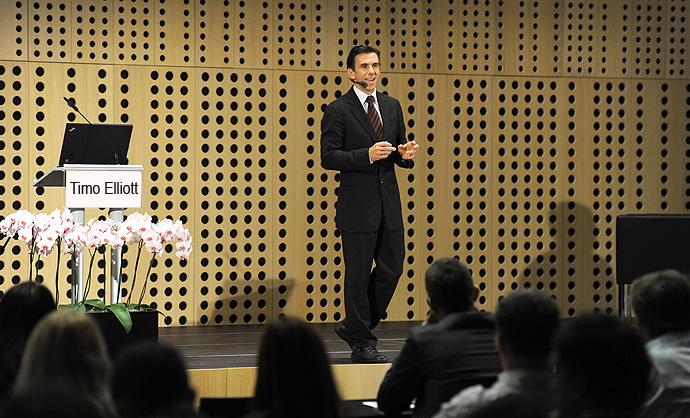 Do you need a presenter for a conference or internal event? I'm passionate, experienced presenter on the topic of how technology information impacts business results. My job is to explain to audiences around the world how new technologies such as analytics, big data, and enterprise social can help transform the way they do business. If you need an interesting and engaging speaker for both technical and non-technical audiences, please contact me at telliott@timoelliott.com.
See the list of recent and upcoming events.

Attendees typically rate me as one of the top 5% of conference presenters. Selected audience feedback:
"Your performance was really outstanding. I have never experienced such a passionate speaker"

Hilmar Schepp

"Probably one of the best Powerpoint presentations I have seen to date!"

Trevor McConnell

"Please accept my sincere appreciation for the outstanding presentation. This presentation was the most interesting I have had in years."

Tony Betkolia

"Your presentation was one of the best presentations I have experienced in a very long time. Excellent delivery, good examples and contents as well as great supporting visuals… From the comments I heard from my customers, I was not alone in being entertained and amazed. All of them told me they wanted to have you visit their management to shake things up and get them moving to next levels of BI adoptions etc."

Sales Manager, Component Software, Norway.

"It really was a pleasure to hear your presentations… -- it's wonderful to meet people like you that are passionate about what they do."

Paul O'Sullivan, Bank of Ireland

"[Your presentation] was the best one I've seen by a mile, and my colleagues agree with me."

Joe Ferreria, Deutsch Bank

"Best presentation so far. Script complemented handout rather than a rehash of script. Great examples and built on each point very well. Thanks."

Graham Canvin

"Splendid presentation from Timo!"

Hannu Lopponen

"Fantastic! Really enjoyed this speaker. Lively and touches the key issues. Humorous but skilled professional. Btw: using visual examples keep concept in your mind (when you are in sessions for days). Easy to remember the breakouts."

"FAB! Talks from the heart. What a mistake taking him away from sales. Very motivational / simple / honest"

Ralf Verlage

I just want you to know that your session, your message, rang loud and clear with me and that it truly has inspired me to "fight the good fight"… Thanks for such a great session!

Kelly Wallace, Medicore

Review from Business Intelligence Poland: "Presentation of the conference was closed by Timo Elliott, a world expert in the field of BI...It was a look to the future of Business Intelligence.... the presentation was conducted very professionally, yet dynamic, with many humorous elements, which allowed participants to enjoy lunch in a very good mood."
Sample feedback -- seven out of five! (120% of conference attendees don't understand statistics

)...

Short example of my presentation style

Other presentation examples
Business in the Moment
7 Big Data Definitions You Should Know About